Founder/Management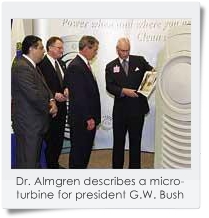 ORKAS Inc. was founded in April 2003 by Dr. Ake Almgren, who is also the President of the company.
Previously Dr Almgren was since 1998 President & CEO of Capstone Turbine Corporation (NASDAQ:CPST), which is the world's premier developer and manufacturer of microturbine systems.
Prior to Capstone, Dr. Almgren spent an accomplished 26 year career at ABB (NYSE:ABB), a worldwide power solutions company. While there, he served as President of various business entities, including Business Area manager Distribution Transformers (with 36 plants in 28 countries), ABB Power T&D Co, Inc., ABB Power Distribution and ABB Power Systems. In these capacities he led operations ranging from high volume commodity products to advanced engineered system solutions with a worldwide presence.
Before relocating to the U.S. in 1991, Dr. Almgren was President of Autoliv (NYSE:ALV ). Under his leadership, the automotive restraint systems company established a North America presence and also expanded into new products such as airbags.
Dr Almgren served on the board of managers 2003 – 2021, chairman of the board 2018 – 2021.
Dr. Almgren holds a PhD in Engineering from Sweden's Linköpings Tekniska Högskola and a Masters degree in Mechanical Engineering from Sweden's Royal Institute of Technology.